14 September 2009 11:08 am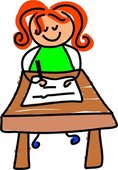 For this writing activity, your child has to think of an incident e.g. football game, a dance, visit to the farm, a picnic by the sea, a day at school. She has to describe the incident purely through phrasal verbs.
Since this may be quite tough, you may want to ask her to write a short paragraph of the incident. Be sure to use phrasal verbs in her short description.
For example, you may want to describe a battle that you have watched on television between  some robots and humans ( this should ring about a a dozen bells!).  The poem would look something like this:
Invasion from the Sky( this is the title)
thrown out
spy on
descend on
hover over
peer into
press upon
slam down
knock over
knock down
smash up
chase after
blast away
blown up
hover over
hover over
clean up.
The title is very important as it enables the reader to make sense of the phrasal verbs.
You could also get your kids to write a few of these poems, without the titles, then ask them to exchange their poems and guess what each poem is about.
Top