History
These guides began from a personal journey .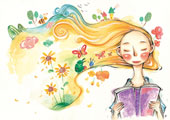 When we began researching literature materials for homeschooling our two daughters, I was unable to find reading-support materials that were both  inexpensive and intellectually challenging.  There were many good study guides in the market, but they were either too costly or limited in the scope of thinking skills required to answer the questions.  In addition, I wanted a guide that had creative writing assignments so that my child could use her imagination and hone her writing skills at the same time.
As a reader, I enjoy responding to what I read. I have always been a keen journal-keeper and I wanted my children to have that same excitement of rewriting stories, re-imagining characters and coming up with their own tales of adventure, love and courage.  That is why I felt that the Creative Writing assignments would form an integral part of  our study guides; they would not merely be an appendage.
I began writing these guides with my children in mind. I try to look at the stories from their perspective, and see how I can encourage them to be better readers and writers.  It is my hope that those of you who use these guides will enrich your children's reading experience!
Top